Ad blocker interference detected!
Wikia is a free-to-use site that makes money from advertising. We have a modified experience for viewers using ad blockers

Wikia is not accessible if you've made further modifications. Remove the custom ad blocker rule(s) and the page will load as expected.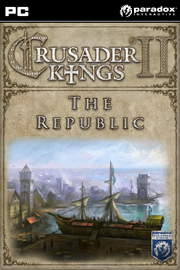 The Republic
 is the third expansion for
Crusader Kings II
. It was released on 14 January 2013.
Description
Edit
The Republic is the third expansion for the critically praised strategy / RPG Crusader Kings II. In The Republic you play as a Patrician in one of the great medieval Merchant Republics. Expand your trade empire as you compete with the other four Patrician families for the coveted position of Doge and the leadership of the Republic.
Crusader Kings II explores one of the defining periods in world history in an experience crafted by Paradox Development Studio, the masters of Grand Strategy. Medieval Europe is brought to life in this epic game of knights, schemes, and thrones.
Experience a new and different type of game by playing as one of the great Merchant Republics: Venice, Genoa, Pisa, the Hanseatic League or Gotland.
As the head of a Patrician family, you must guide your Republican dynasty through fortune and misfortune in a world dominated by kings and emperors.
Build Trade Posts and expand your Mercantile empire by controlling the sea lanes and the coasts of Europe... and defend it against rival Patricians, Republics and greedy feudal lords.
Improve your Trade Posts and your prestigious Family Palace with dozens of unique new buildings.
Compete in the Doge elections, compensating for lack of age and Prestige by investing money in your campaign fund. May the richest man win!
Survive feuds with other Patrician families and plot to seize Trade Posts from your rivals; new Plot and many special events for characters in the Republics.
New Republican skin for the interface.
Unique Clothes and ship models for Republics.
Can only play as Ducal level and up Republics
External Links
Edit