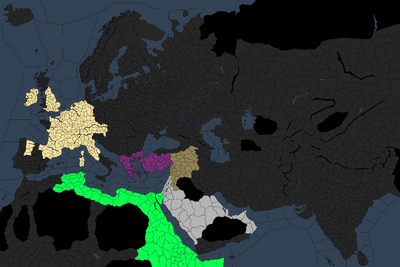 Pentarchy
is a term in the history of
Christianity
for the idea of universal rule over all of Christendom by the heads (or Patriarchs) of the five major episcopal sees of the Roman Empire: Rome, Constantinople, Alexandria, Antioch, and Jerusalem. The idea came about due to the political and ecclesiastical prominence of these five sees, but the concept of their universal and exclusive authority was firmly tied to the administrative structure of the Roman Empire. The idea of the pentarchy was first tangibly expressed in the laws of Emperor Justinian I (527–565), particularly in Novella 131. The Quinisext Council of 692 gave it formal recognition and ranked the sees in order of preeminence. Especially following Quinisext, the pentarchy was at least philosophically accepted in Eastern Christianity, but generally not in the West, which rejected the Council.
External Links
Edit
Ad blocker interference detected!
Wikia is a free-to-use site that makes money from advertising. We have a modified experience for viewers using ad blockers

Wikia is not accessible if you've made further modifications. Remove the custom ad blocker rule(s) and the page will load as expected.