Italy 
is a
de jure
kingdom
 consisting of 12 
duchy
title and 33 
county
titles. The title does not exist by default in the timeframe of 
Crusader Kings II
, but can be created by the player or the AI. The title exists in the timeframe of 
The Old Gods
 DLC.
De Jure Territory
Edit
The de-jure duchy titles within Italy are as follows:
Ancona
Ferrara
Genoa
Latium
Lombardy
Modena
Pisa
Sardinia
Spoleto
Susa
Tuscany
Verona
The kingdom of Italy is a de jure part of the empire of Italia. The de jure capital of Italy is the county of Pavia - AI rulers of Italy are likely to make this their capital.
Creation Conditions
Edit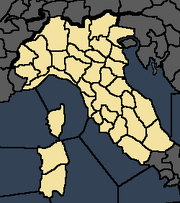 A ruler requires 2 duchy titles, plus at least 51% (17) of the 33 de jure counties to create Italy. In addition, a significant amount of gold and piety is required to create Italy.
Creating Italy grants the creator 400 prestige.
External Links
Edit
Ad blocker interference detected!
Wikia is a free-to-use site that makes money from advertising. We have a modified experience for viewers using ad blockers

Wikia is not accessible if you've made further modifications. Remove the custom ad blocker rule(s) and the page will load as expected.