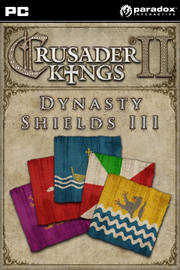 Dynasty Shields III
 is a minor DLC for
Crusader Kings II
. It was released on 25 June 2013.
Description
Edit
Enhance your Crusader Kings II experience with the Dynasty Shields III DLC. This pack contains historically accurate Coat of Arms for 50 famous families of Medieval Europe. The Dynasty Shields III DLC pays special attention to the pagan families of The Old Gods, including Stenkil, Munsö, Crovan, Karen, Ylfing and many more.
External Links
Edit
Ad blocker interference detected!
Wikia is a free-to-use site that makes money from advertising. We have a modified experience for viewers using ad blockers

Wikia is not accessible if you've made further modifications. Remove the custom ad blocker rule(s) and the page will load as expected.