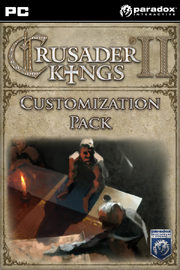 Customization Pack
 is a minor DLC for 
Crusader Kings II
. It was released on 14 August 2013.
Description
Edit
Do you think your character has an ugly beard? Trim it! (And get a haircut while you're at it...) Want to change the name of your kingdom to 'Awesomia'? Do it. Does your faithful vassal have a stupid dynasty name or shield? Customize them! The Customization Pack allows you to alter all of these things in-game. It has no effect on gameplay, but perhaps on your peace of mind.
In-game barber shop: customize hair and beard.
Rename children born to all your descendants (not just your own children)
Name bastard dynasties
Rename duchies and above, with adjective form
External Links
Edit
Ad blocker interference detected!
Wikia is a free-to-use site that makes money from advertising. We have a modified experience for viewers using ad blockers

Wikia is not accessible if you've made further modifications. Remove the custom ad blocker rule(s) and the page will load as expected.