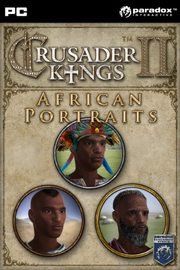 African Portraits
 is a minor DLC for
Crusader Kings II
. It was released on 16 October 2012.
Description
Edit
Enhance your Crusader Kings II Experience with the African Portraits pack. African Portraits adds thousands of unique face combinations to both male and female characters in the African states south of the Sahara. This includes Nubia, Abyssinia, Mali, Songhay and Ghana.
Crusader Kings II explores one of the defining periods in world history in an experience crafted by the masters of Grand Strategy. Medieval Europe is brought to life in this epic game of knights, schemes, and thrones...
External Links
Edit
Ad blocker interference detected!
Wikia is a free-to-use site that makes money from advertising. We have a modified experience for viewers using ad blockers

Wikia is not accessible if you've made further modifications. Remove the custom ad blocker rule(s) and the page will load as expected.